Across the country, nearly 3 million registered nurses provide patient care in hospitals, clinics, and doctors' offices. By 2026, an additional 438,100 nursing positions will be created, according to the Bureau of Labor Statistics (BLS), making nursing one of the fastest-growing careers in the U.S. Nursing also offers above-average salaries and career advancement opportunities. But what does an RN do, and how much does an RN make? This guide explores how to become a registered nurse, with information on RN programs, nursing salaries, and top jobs for registered nurses.
---
What Does a Registered Nurse Do?
Before researching how to become an RN, prospective nurses should carefully consider what registered nurses do. While nursing offers lucrative salaries and the opportunity for career advancement, becoming an RN isn't for everyone. Both on a daily basis and over the course of a career, nursing places high demands on professionals.
Consider, for example, the physical requirements for RNs. Nurses spend much of their time performing physical tasks, including moving patients. Many spend 8-12 hours on their feet during a nursing shift. These physical requirements can tax even experienced nurses.
RNs spend much of their time providing direct care for patients. As the bridge between patients and physicians, nurses discuss medical conditions with patients, explain how to follow a doctor's recommendations, and administer prescribed medications or treatments. Nurses must bring strong communication skills to their job. While caring for patients, RNs also keep detailed records, charting a patient's condition and the doctor's recommendations.
When caring for patients with infectious diseases or administering controlled substances, RNs must follow professional regulations and guidelines. They help maintain a sterile environment in operating rooms and prevent injuries in medical settings. In short, RNs keep medical facilities running smoothly.
Skills Required to Be an RN
Nurses bring several critical skills to their profession. RN programs train nurses in physiology, anatomy, and evidence-based nursing practice. The training emphasizes critical thinking, a detail-oriented outlook, and an attention to patient care.
During an RN program, nursing students also strengthen their clinical skills by completing rotations in different medical settings, such as long-term care facilities, labor and delivery units, emergency rooms, and operating rooms. While nursing programs build strong medical and patient care skills, work experience also helps RNs develop additional competencies. Nurses strengthen their communication skills, organization skills, and compassion by working with patients.
Where Do RNs Work?
RNs work in many different healthcare settings, including hospitals, clinics, and doctors' offices. In these settings, nurses provide medical treatments, care for patients, and assist physicians. They specialize in fields like emergency care, operating room nursing, or pediatric nursing, and their chosen area of specialization influences where they work.
Nurses also work in nursing homes and residential care facilities, caring for aging patients and offering palliative and hospice care. In addition, nurses may work for the government as military nurses or for colleges and universities as educators for nursing students. Nursing students should consider a workplace that best fits their strengths and interests.
Interview with an RN Expert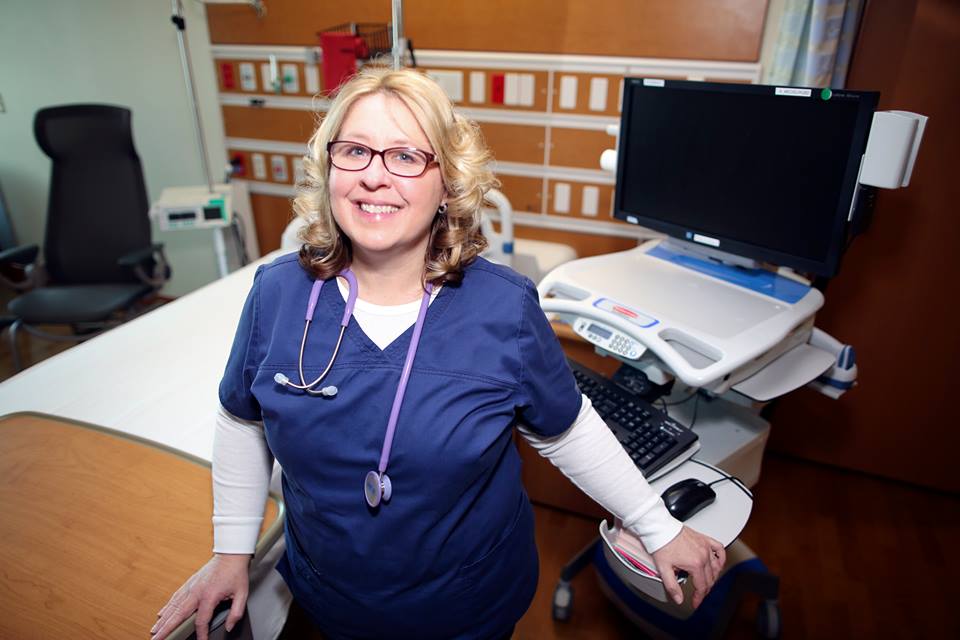 Dana Carl is a registered nurse with St. Luke's University Health Network in Bethlehem, Pennsylvania. She began her career working on the medical surgical floor at St. Luke's before moving to hospice in 2017. In her current role, she provides care and treatment to meet the needs of patients with terminal illnesses while ensuring their comfort and quality of life during their remaining days. Dana completed her bachelor of science in nursing at Moravian College in 2019. She resides in Orefield, PA, with her husband and three children.
Why did you decide to pursue a career as a registered nurse? Was it something you were always interested in?
I have always wanted to be a nurse. I think it's something I was just born to do. Occasionally, people and events in life can shape you into who you are and what you want to be. Thinking back, the fact that my mother was a nurse could have had a lot to do with my desire to enter the field. Or maybe the inspiration to pursue nursing school was sparked by my best friend, who works as a nurse just like my mother used to. Then again, my passion for nursing could also be a result of the experience I had caring for my father, who at age 62 was diagnosed with a rare and aggressive form of leukemia that would ultimately claim his life.
I always thought about being a nurse and how rewarding it would be, but never fully realized the impact doctors, nurses, and other healthcare workers can have on people's lives until 15 years ago when my father was first diagnosed with leukemia. During the time he was sick, my mother, sister, and I worked together to care for him. It was no doubt an emotional and difficult time in my life, but I have always felt grateful and proud that I was able to help care for him. Because of that experience with my family, I realized that I may have a special calling to be a nurse.
What advice would you give to someone considering a career in nursing? More specifically, what advice would you give to nontraditional students who are considering pursuing a career in nursing later in life?
Not becoming a nurse was one of my regrets in life as I entered into my 40s. Don't let there be regrets. Anything is possible if you really want to do it. Build your cheerleading team and just start. Nursing school was hard, probably one of the hardest things I have ever done. But that cannot be an excuse. I was a wife and mom to three kids, worked full time, and went to nursing school. There will be sacrifices you and your family will need to make, but it will not be a forever thing. My husband learned how to do laundry, my kids ate a lot of pizza, and I kept Dunkin Donuts in business.
I highly encourage anyone considering nursing to go ahead and pursue a career in it. There is so much to give and there is so much you get back. I knew a career in nursing would not only prove to be rewarding but also provide a stable job with plenty of room for personal growth and development, as well as opportunity for advancement. There are also many types of nursing careers, such as emergency department and operating room, to name a few. A nursing career offers flexibility with schedules, allowing you to work days or nights and full time or part time depending on the season of your life.
What did your career trajectory look like after you graduated? How did you end up in your current position?
After I graduated, I was hired on to a medical surgical floor full-time nights. I wanted medical surgical experience because I knew I would get broad experience and good clinical skills that I wanted as a foundation before I worked in any other kind of nursing field. My ultimate goal was to become a hospice nurse. After one year of nursing on a medical surgical floor and having gained some confidence, I applied for a hospice position. I was hired and started as a hospice nurse almost 2 years ago.
What are the pros and cons of working as a registered nurse? Is nursing considered a flexible career?
There are definitely pros and cons to being a registered nurse. To me, there are more pros than cons.
Pros: serving, caring, listening, loving, helping, rewarding, stable career, good income, independence, flexible schedules, respected, save lives, different nursing careers available, higher education opportunities, certifications, and always learning.
Cons: physically and emotionally exhausting at times, sad, working weekends and holidays, difficult patients and families and circumstances, always on your feet, and witnessing death.
What are some of the essential skills and qualities someone needs to be successful as a registered nurse?
Some of the most essential skills and qualities needed to be a nurse are critical thinking, independence, being a team player, caring, good listener, communication, and respectfulness.
What does continued education look like for a registered nurse?
You can become a registered nurse either through a diploma program, associate degree program, or bachelor's degree program at a four-year college. After finishing any of these programs, a student takes the state board's exam and needs to pass to become licensed as a registered nurse.
After becoming an RN, there are opportunities to continue your education. You can pursue a master's degree in nursing or further your education with a doctorate in nursing.
Nurses must take continuing education classes to maintain their nursing licenses. Continuing education classes are chosen by the nurse. The only mandated continuing education classes are child abuse education and job specific material within your current position.
Nurses can also study to become certified in nursing specialties, which can increase earning potential and job advancement. For example, an ER nurse can get certified in trauma.
---
RN Salary & Career Outlook
How much does an RN make? Registered nursing salaries vary; however, RNs earn an average of over $70,000 per year, with strong job growth.
RN Salaries
The median 2018 annual salary for registered nurses hit $71,730.
RNs at the 10th percentile earned $50,800 per year.
RNs at the 90th percentile earned $106,530 per year.
Highest-paying industries include the federal government and pharmaceutical manufacturing.
Most nurses work in hospitals or physicians' offices.
RN Job Growth
Job growth for registered nurses remains much faster than the national average.
2016-2026 BLS projections expect 15% job growth.
438,100 new RN jobs will be added between 2016 and 2026.
Faster job growth is anticipated in long-term rehabilitation facilities and residential care facilities.
Outpatient care centers and ambulatory care settings are also expected to see faster growth.
Top Jobs for RNs
RNs work in many lucrative fields. The following salary data comes from Payscale's 2019 numbers. Salaries may fluctuate, so check Payscale for the latest figures.
Emergency Room RN
Description: ER nurses provide emergency care, typically in the emergency room of a hospital. Some also work in ambulances or medical evacuation helicopters. ER nurses perform triage on patients experiencing trauma or injury, treating patients with the most serious conditions first. They also run tests, insert IVs, and work with doctors to provide patient care.
Average Yearly Salary: $66,000
---
Neonatal Intensive Care Unit RN
Description: Neonatal Intensive Care Unit RNs, also called NICU nurses, care for newborn babies that require additional medical attention. These nurses' patients include premature newborns or babies with illnesses. NICU nurses educate families about a newborn's conditions, assist doctors, and monitor vital signs for newborns. NICU nurses typically work on hospital schedules, including 12-hour shifts and overnight shifts.
Average Yearly Salary: $62,000
---
Operating Room RN
Description: Operating room nurses care for patients before, during, and after surgery. They maintain a sterile environment in the OR, assist patients during a surgical procedure, and monitor a patient's vital signs. They also assist patients after surgery and provide information on the recovery process.
Average Yearly Salary: $70,000
---
Primary Care RN
Description: Primary care nurses care for patients in hospitals and physicians' offices. They complete patient charts, administer vaccines, take vital signs, and coordinate patient care. Primary care RNs work with doctors to care for patients, provide wellness checks, and monitor chronic conditions.
Average Yearly Salary: $64,400
---
Trauma Flight RN
Description: Trauma flight nurses transport sick and injured patients requiring critical medical treatment because of trauma. They work with paramedics, doctors, and medical staff to stabilize a patient's vital signs and treat emergency conditions during transport. Trauma flight nurses administer medications, treat wounds, and assess the patient's status.
Average Yearly Salary: $91,000
Differences Between an ADN and BSN
An associate degree in nursing meets the requirements for many entry-level nursing positions. ADN programs typically take two years, including clinical components, and accredited ADN programs fulfill the education requirements for a nursing license in every state.
However, many employers prefer candidates with a bachelor's degree in nursing. A BSN usually requires four years of study, including general education coursework and specialized nursing classes. Graduates with a BSN also meet the education requirements for an RN license.
While a BSN requires additional training, the degree helps nurses compete on the job market and advance their careers. Prospective nurses can enroll in a BSN program to enter the workforce with a more competitive degree. Current RNs can also consider RN-to-BSN programs or bridge programs for RNs to earn a BSN. Accelerated RN-to-BSN programs let nurses earn their BSN in as little as one year.
How to Become an RN
Prospective nursing students wondering how to become a registered nurse can follow these steps to advance their career by earning their RN license.
Steps to Becoming an RN
1
Successfully complete an accredited program. All nurses must earn a nursing diploma or degree from an accredited program to qualify for a registered nursing license. Prospective nurses should research accreditation status before applying to nursing programs. During a nursing program, students build clinical skills, gain physiological knowledge, and strengthen their practical skills through hands-on training. After earning a degree or diploma from an accredited nursing program, graduates can move forward with the licensure process.
2
Take and pass the National Council Licensure Examination. In every state, prospective RNs must take and pass the NCLEX-RN exam to earn their license. When registering for the NCLEX exam, candidates must also submit an application for an RN license to their state's nursing regulatory body, which grants an authorization to test. The exam includes 125 questions, which candidates must complete in six hours. Test takers receive official results six weeks after the exam. Candidates who pass can complete the RN licensure process.
3
Apply for and obtain an RN license. RN candidates must complete the licensure process for the state in which they plan to practice. Each state sets different requirements, though all mandate an accredited nursing diploma or license and passing scores on the NCLEX. Some states set a minimum number of clinical hours for an RN license or require a background check. Research the RN licensure process in your state for more information.
4
a position that suits you and your goals. After earning their RN license, nurses can apply for openings at hospitals, doctors' offices, and other healthcare facilities. RNs work in many different fields, including emergency nursing, pediatric nursing, and operating room nursing. With so many options available, nurses often find a position that fits their interests and career goals. Nurses can also move into nurse supervision or nursing education, which requires additional work experience or an advanced degree.
5
Consider specialization training or an MSN program. Nurses can advance their careers by pursuing a master of science in nursing. Nurses interested in administration or management-level roles can earn their MSN in nurse administration, while those interested in nurse practitioner roles can pursue an MSN for family nurse practitioners, neonatal nurse practitioners, or other specializations. MSN programs in nurse anesthesiology and nurse midwifery also offer career advancement opportunities.
Certification and Licensing Requirements
Regardless of where they work or the tasks they perform on a regular basis, all registered nurses must pass the standardized NCLEX-RN to become registered and work as an RN in the U.S.
Once you've successfully completed your nursing program, you must apply to take this licensing exam in the state you wish to work in. Before you take the NCLEX exam, you'll need to:
The NCLEX-RN is administered in a computer-adaptive test format. Effective April 2019, the 2019 NCLEX-RN Test Plan is structured in the following categories:
| Client Needs | Percentage of Items from Each Category/Subcategory |
| --- | --- |
| Management of Care | 17-23% |
| Safety and Infection Control | 9-15% |
| Health Promotion and Maintenance | 6-12% |
| Psychosocial Integrity | 6-12% |
| Basic Care and Comfort | 6-12% |
| Pharmacological and Parenteral Therapies | 12-18% |
| Reduction of Risk Potential | 9-15% |
| Physiological Adaptation | 11-17% |
Source: NCSBN
The NCLEX requires test takers to understand and apply the fundamental principles of nursing, including clinical decision-making and critical thinking. The exam also requires test takers to be able to integrate the following concepts gained in their nursing programs:
Social sciences (psychology and sociology)
Biological sciences (anatomy, physiology, biology, and microbiology)
Physical sciences (chemistry and physics)
Additionally, the concepts below are applied throughout all categories of the exam:
Nursing process
Caring
Communication and documentation
Teaching and learning
Culture and spirituality
A license is required for practicing nurses in each U.S. state and territory (including the District of Columbia). Additional requirements for receiving and maintaining licensure as a registered nurse will vary by state. In some cases, nurses are responsible for covering the costs of exam registrations and continuing education coursework.